Are you searching for your daily Shrek fix? We've got you! We at Anomalous decided to bring you a collection of the 50 funniest Shrek memes in history. Enjoy all the following memes about Shrek 1, Shrek 2, Shrek 3, and Shrek 4 too.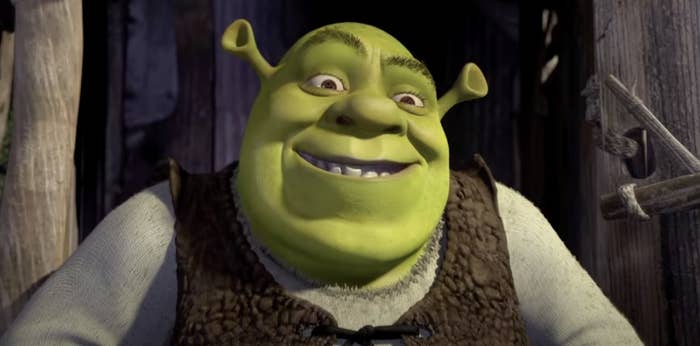 1
Marvel: 'Infinity War is the most ambitious crossover event in history'

me: pic.twitter.com/IHouxs8yp7

— Ali (@Azniac) March 20, 2018
2
3
stopped to clean @shrek 's hollywood star. nothing but respect for MY president pic.twitter.com/SGgZIe31kz

— erin (@jeanjcket) July 3, 2017
4
[Stock market crashes]
"Oh no, I better check on my investments!"
*opens cupboard over top of the sink*
[1000s of Shrek dvds fall out]

— H̴̋O̶̯̲͂R̵̩̹͋͛R̷̄Ö̷́̄̕R̴̘̅BȄ̶̗E̸̲̾̊ST (@flashember) September 6, 2015
5
she said do you love me, i said only partly, i only love my swamp and my donkey, i'm sorry… pic.twitter.com/GwgrFYYLDN

— ETHAN (@ethan11kovach) February 3, 2018
6
7
8
ME: I'll put a sexy movie on
DATE: Good idea
*presses play*
D: Shrek?
M: omg embarrassing
D: Haha
M: [fumbling with DVD] Meant to be Shrek 2

— Jon (@ArfMeasures) July 5, 2016
9
I don't remember this part of the movie…. pic.twitter.com/mkWkYJUKq2

— 🥪 (@jjxxmnn) February 23, 2018
10
11
[valentine's day]
gf: [reading my txt] "keith just said he's going to give me 92 minutes of pleasure tonight"
her friend: "oh wow"
[later watching shrek 2]
me: "you look disappointed"

— k e i t h 🐤🥔 (@KeetPotato) February 14, 2018
12
best shrek song
you: all star by smash mouth
me, an intellectual: I Need A Hero by the Fairy Godmother

— indy 🥟 (@iraexe) May 15, 2017
13
14
If you read the Bible backwards it's the script for Shrek 2

— Fred Delicious (@Fred_Delicious) November 29, 2016
15

16
Make friends in your classes pic.twitter.com/U6NXvCooun

— molly (@mcelizabeth97) March 14, 2018
 17
18
so baby pull me closer in the backseat of ur rover pic.twitter.com/aaZxh31KRm

— tom (@tom_harlock) November 18, 2016
19
20
21
I've started using Shrek as a unit of time, where 1 shrek = 1hr 35min (the length of the movie)

Examples:
"See you in a shrek!" (1hr 35min)
"Dinner will be ready in half a shrek." (47.5min)
"My birthday is only 469.9 shreks away!" (1 month)

— taco bell hooks (@ohpegah) February 15, 2018
22
23
Me: Whats wrong babe?
Her: Nothing.
Me:*Pauses DVD of Shrek 2 that Ive had on a loop since losing my job* No somethings wrong I can tell.

— Hispanic Shaun King (@okimstillhungry) September 22, 2016
24
BIDEN: How come you've never shown ME the swamp?
OBAMA: Drain the swamp is a metaphor, Joe.
BIDEN: Where will Shrek live? pic.twitter.com/xEKzJJpazZ

— Maybe: Brendan Bergen (@carpetislava) November 11, 2016
25
26
HITMAN: Who's the target?
ME: [slides photo across table]
HITMAN: You..want me to kill Shrek?
ME: Not Shrek [taps photo] his talkative horse

— Joe West (@joejwest) February 12, 2016
27
28
*Guy is rushed in on a stretcher*
DR: what happened
EMT: we found him passed out & seizing during a shrek marathon
DR: WE'VE GOT AN OGREDOSE

— Brandon the Cow (@Brampersandon_) May 28, 2015
 29
#LyricsThatHaveToBeShouted
someBODY ONCE TOLD ME THE WORLD IS GONNA ROLL ME pic.twitter.com/1MmmYVUFMy

— notorious aBIGail (@abigailbennett_) June 15, 2016
30
 31
"My god, it's the zombie apocalypse. Everyone grab the most critical items and get ready to run"
*me holding a Shrek 2 DVD*
Way ahead of you

— Dr. Bucky Isotope, PhD, BOFA (@BuckyIsotope) January 20, 2016
32
cop: do you know why i pulled you over

me: because i was playing the Shrek 2 soundtrack?

cop: ya turn that shit up lol

— m ¨̮ (@melmadara) March 18, 2019
33
please enjoy this painting of kanye as a shrek pic.twitter.com/PrfAJFoTKO

— omen wilson (@bug_facts) April 23, 2014
34
*Hallelujah starts playing*

"Ah yes, from Shrek"

— Merlin's beard (@Mariamnessi) May 12, 2017
35
This is an actual Smash Mouth concert pic.twitter.com/9ZIAzgIrBg

— Matthew (@MattyDudedizzle) June 28, 2016
36

37
38
39
A Shrek fan fiction about Donkey and Dragon's bdsm sex life called 50 Shades of Bray: How to Chain Your Dragon

— evil slate (@PleaseBeGneiss) September 15, 2019
 40
tfw your potato has layers pic.twitter.com/DZKcg6E7bA

— Denny's (@DennysDiner) February 22, 2017
41
Him. pic.twitter.com/d5p4tNbh93

— shrek imagines (@kissingshrek) June 14, 2014
42
✨ a skincare thread ✨
how i went from this… to THIS! pic.twitter.com/AbXjP0uREr

— jords (hiatus) (@soulgamora) March 8, 2018
43
 44
I consider myself a true film fan. Most people wouldn't understand true art and I don't expect them to. Here are my top five films of all time
1. shrek
2. Shrek 2
3. Shrek 3
4. Shrek Forever After 3D
5. Pulp Fiction

— lili libra (@bbylychee) March 11, 2018
45
46
I know my children are going to warn their future partners not to shit talk Shrek in front of me.

— Sophia Benoit (@1followernodad) April 2, 2016
47
green characters who are too sexualized:
– shrek
– the grinch
– the green m&m

green characters who haven't gotten sexualized ENOUGH:
– Flubber pic.twitter.com/8OqQd3AZO0

— Michal (@Miexriir) February 10, 2018
48
49
there are children being born whose PARENTS were not alive when Shrek (2001) came out.. Crazy how the years start coming and they simply do not stop coming

— bada bing / bada boom (@jazz_inmypants) January 5, 2020
50
ok so I got pulled over on my way home from makeup class… pic.twitter.com/Nyn7rOa1LM

— haybay (@_haybayy) October 17, 2017
What do you think about these Shrek memes? Let us know your answers in the comments down below.