Sam Niell and his animals are the only thing keeping us on Twitter right now. Therefore we at Anomalous decided to share some of his tweets with you. We hope you will enjoy them and make sure to comment down your thoughts in the comments section. 
1. You do know Sam Neil, an actor from New Zealand, right?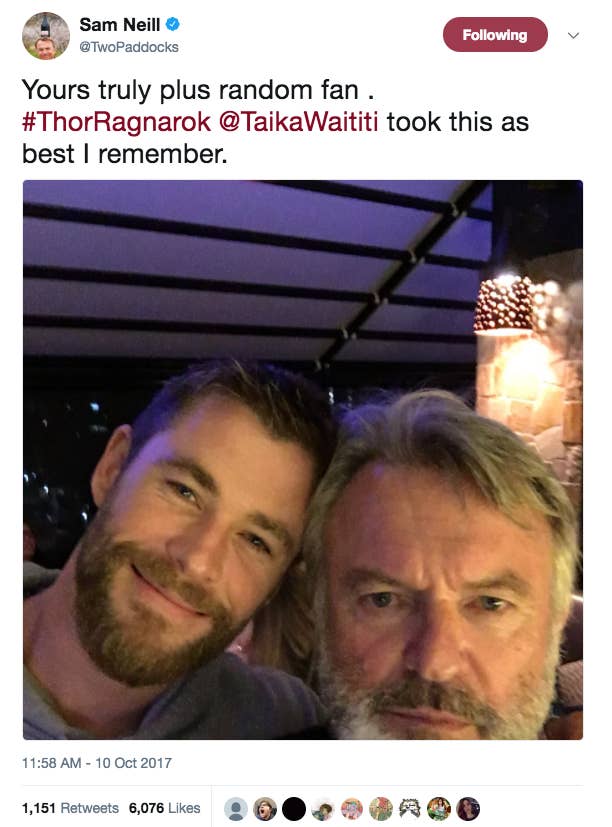 2. But most of you might not know that Neill owns a winery in New Zealand where he hangs out with a lot of animals and spends his time tweeting about them.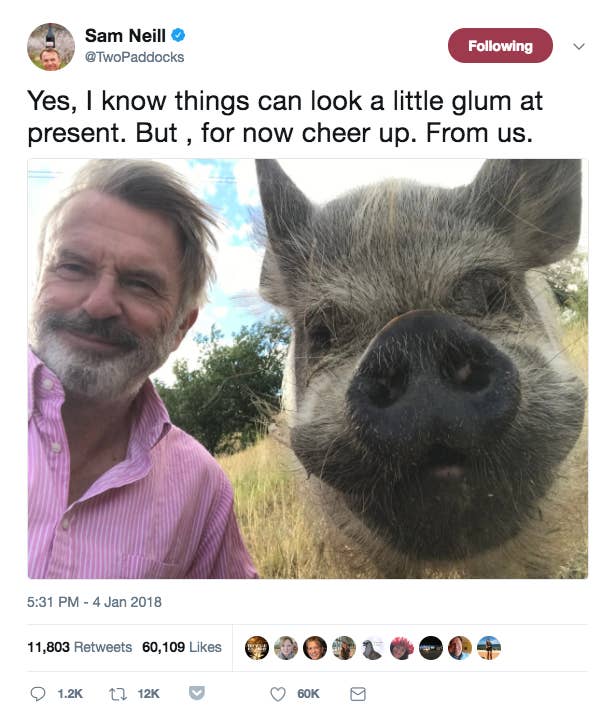 3. It's one of the most wholesome and pure things in the world right now.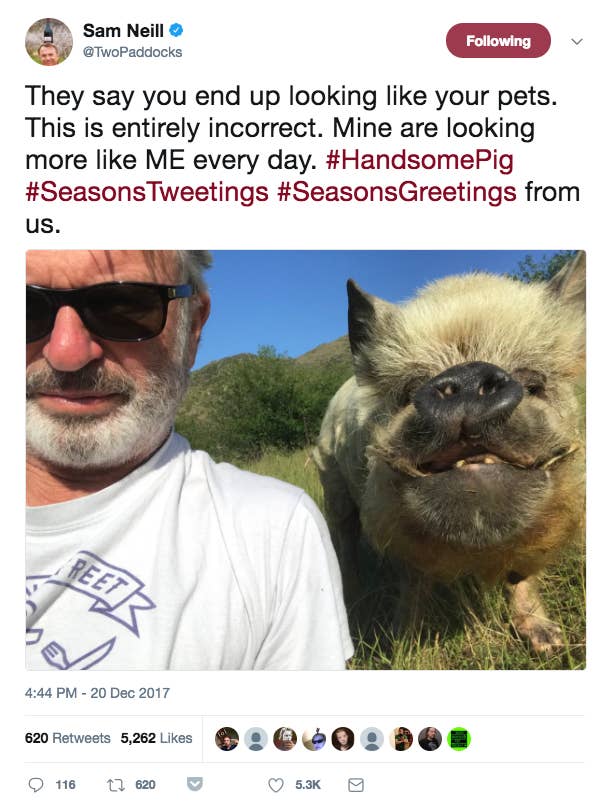 4. Angelica, his pig, is a particular star.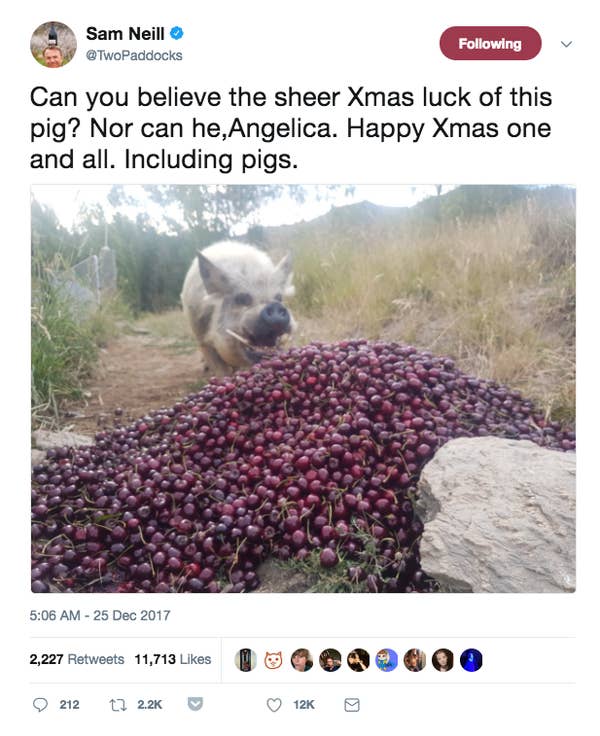 5. Have a look at how much they adore each other. 
WHEN A PIG LOVES YOU.
They run when you turn up.
See you in a few days , big fella. pic.twitter.com/lOOpfizPJQ

— Sam Neill (@TwoPaddocks) October 31, 2017
6. Make sure to turn the sound on for this video. It's really worth it. 
Massage and a glass of wine. pic.twitter.com/u7TtQyFk7Z

— Sam Neill (@TwoPaddocks) August 18, 2017
7. Here's another pig named after Kiwi icon Taika Waititi. 
8. Neill has a chicken named after Aussie actress Rose Byrne.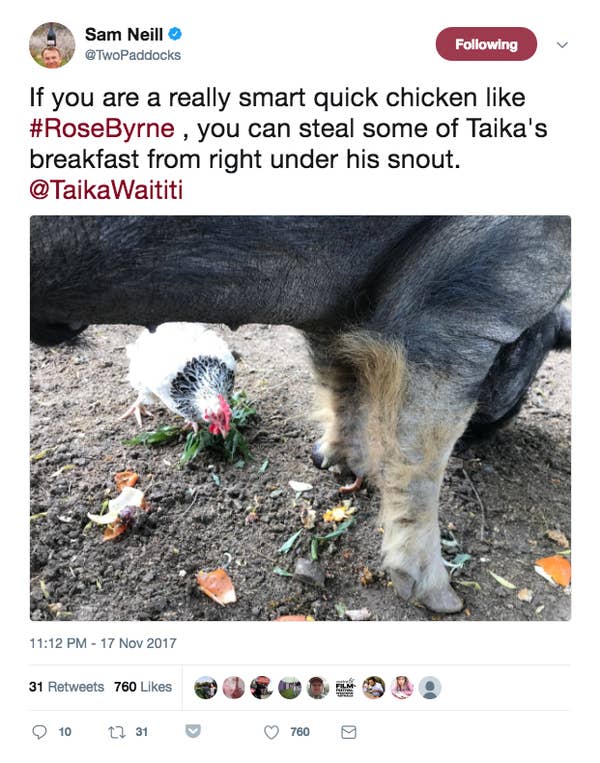 9. Here's his cow named in honour of Helena Bonham Carter.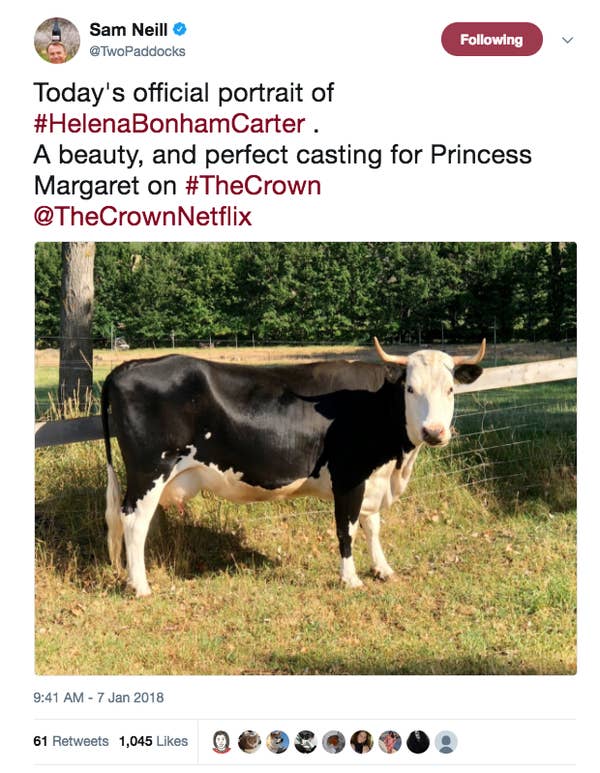 10. Here's Charlie Pickering, the duck, named after an Aussie TV presenter.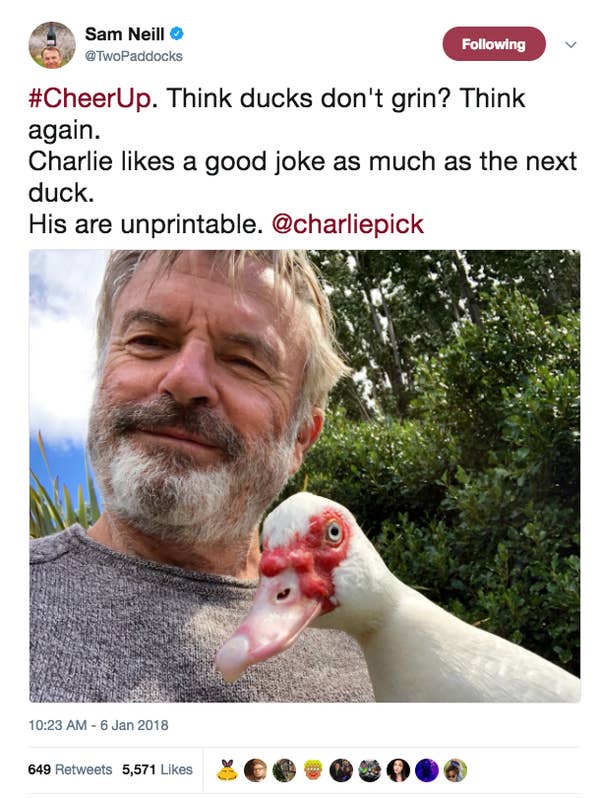 11. He has concluded that the duck is better than Charlie Pickering himself.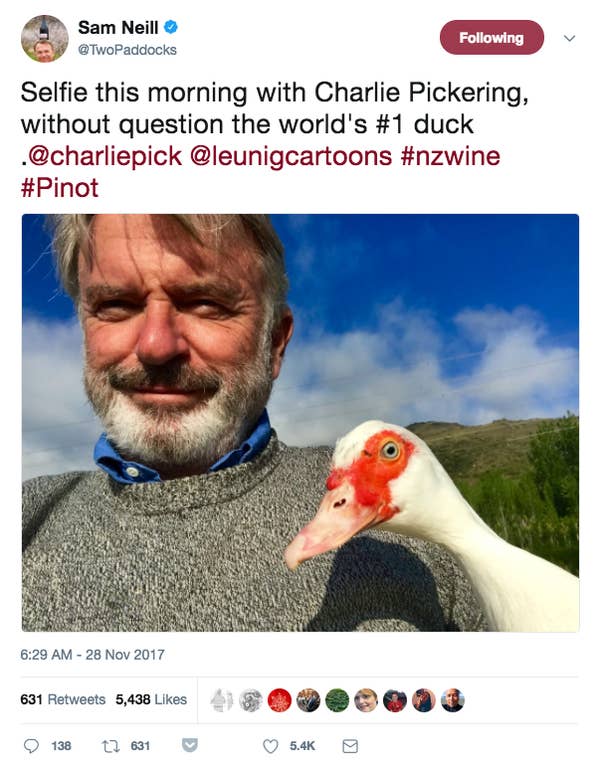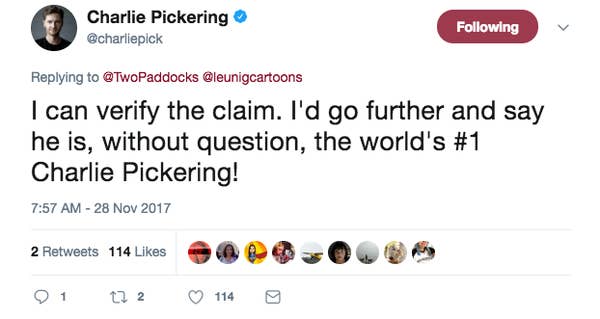 12. Meanwhile Neill has realised that Charlie Pcikering owns him. 
13. They all do.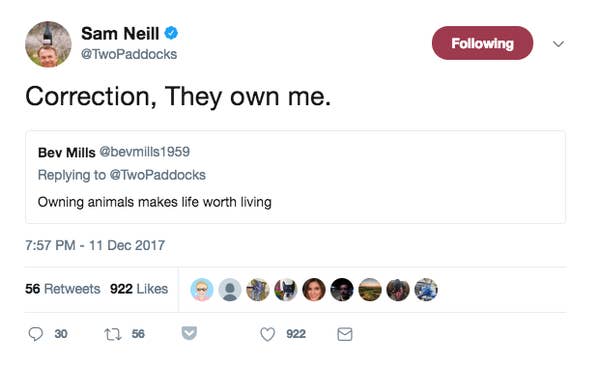 14. Neill also takes two toy pigs on adventures. He doesn't forget to share what he captures on Twitter.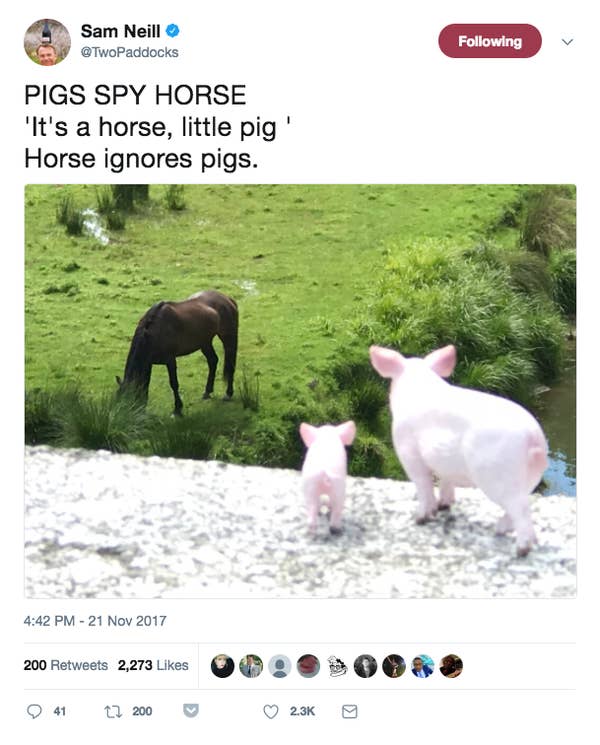 15. Interaction with real animals. 
16. They end up in all kinds of situations.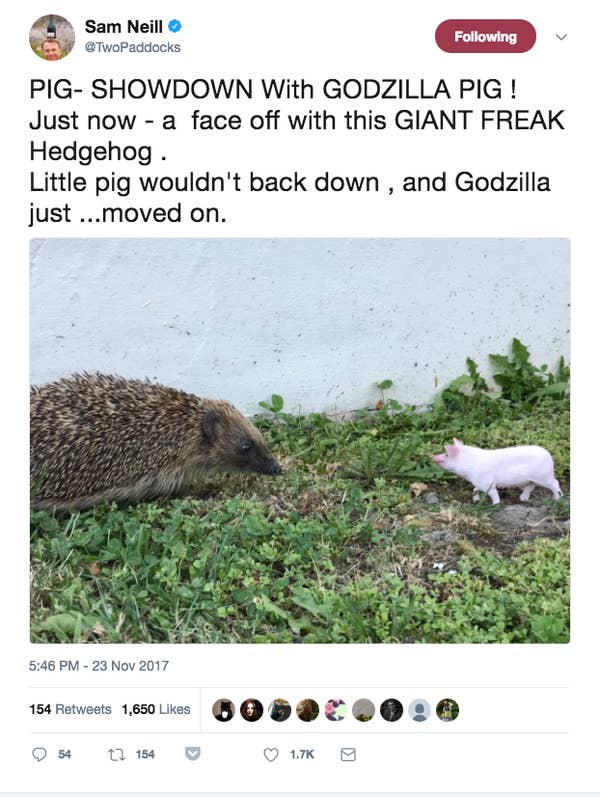 17. Some situations are more dangerous than others.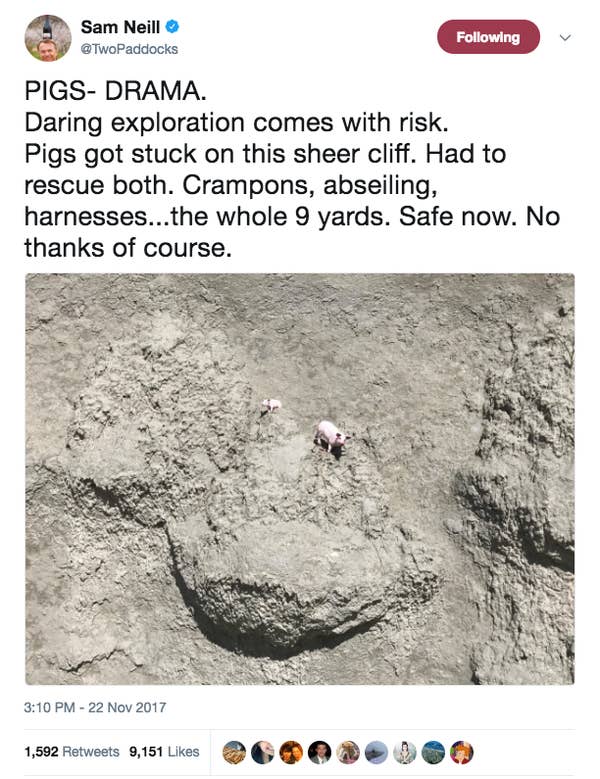 18. Some need special clarification.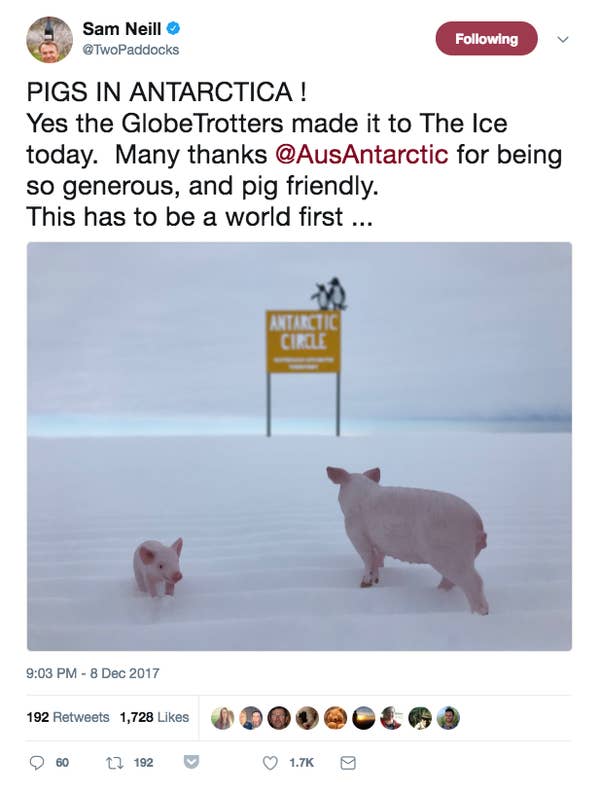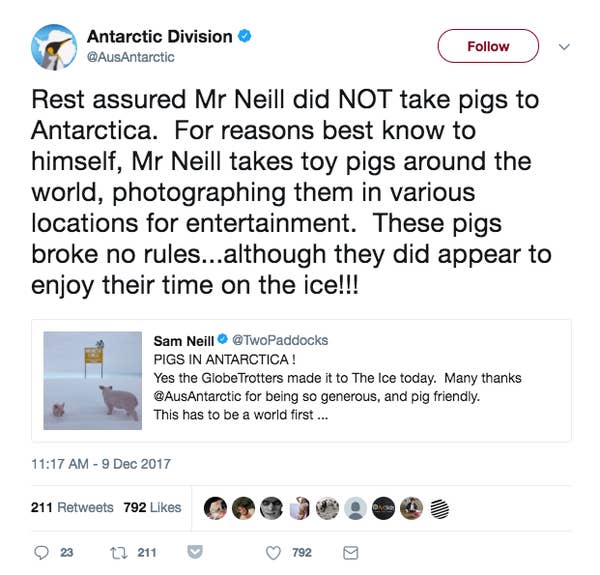 19. Neill also likes fake penguins.
20. Not just that, he is also a huge flora fan. 
My Evening Geraniums .
[ OK grammar nazis – Gerania. Happy? ] pic.twitter.com/JGYlj9Ls2u

— Sam Neill (@TwoPaddocks) January 6, 2018
21. This tweet is art. 
Today. This rose.
Stopped me in my tracks. pic.twitter.com/EDrazsVWRH

— Sam Neill (@TwoPaddocks) January 7, 2018
22. Neil, also shares some more glam parts of his life.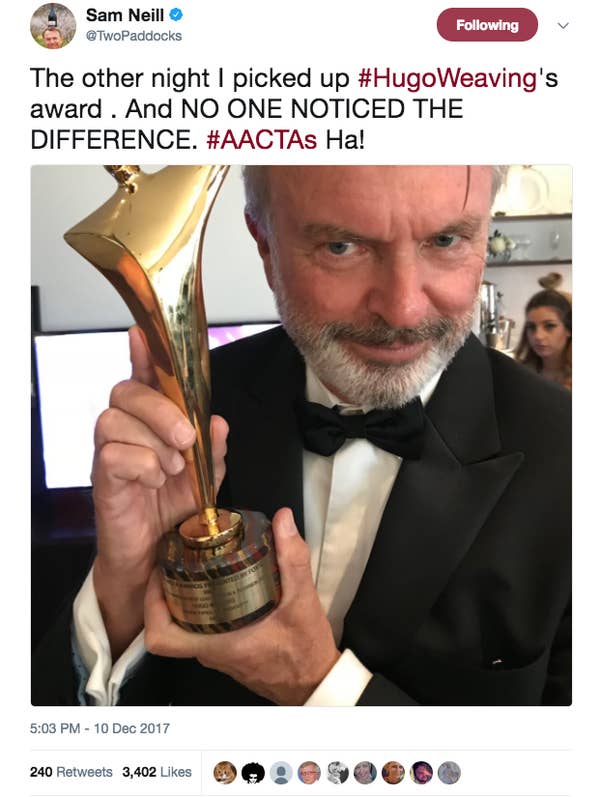 23. Like how he gets recognised all the time.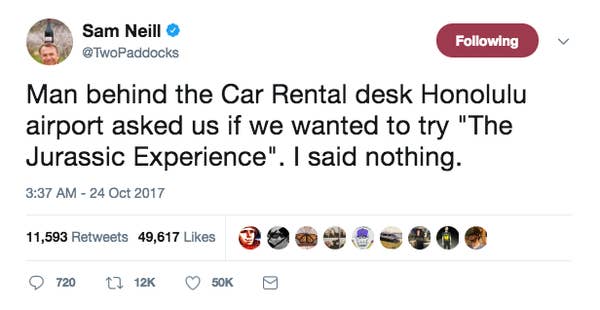 24. And super successful.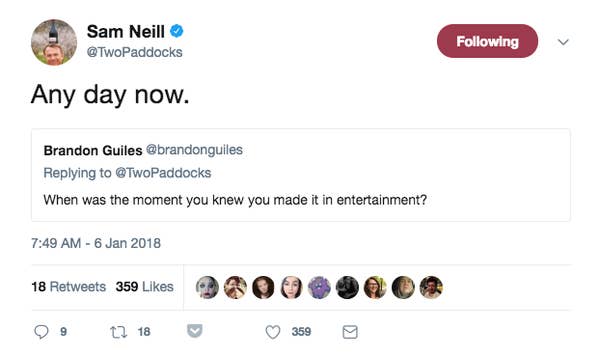 25. Neill answers questions like this one about his experience with Hurricane Iniki. 
Jeff Goldblum giving me a Victoria's Secret catalogue to keep my mind off our imminent demise. https://t.co/j8PmK3lhL8

— Sam Neill (@TwoPaddocks) January 5, 2018
26. This one is about how he prepares for roles.
27. And this is about… toast?
28. He is a fan of pop culture.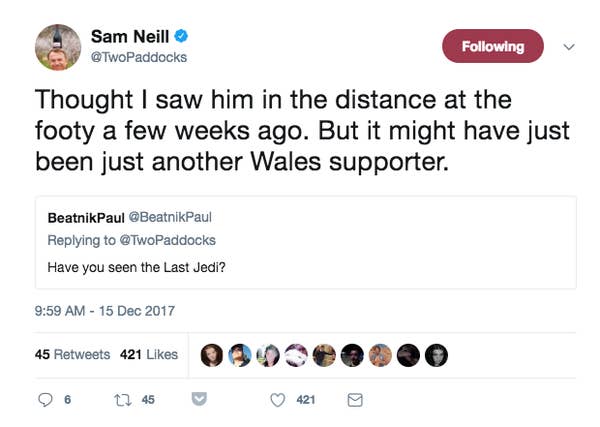 29. He gives good love advice too. 
30. And beauty advice. 
31. Neill isn't afraid to share all his secrets.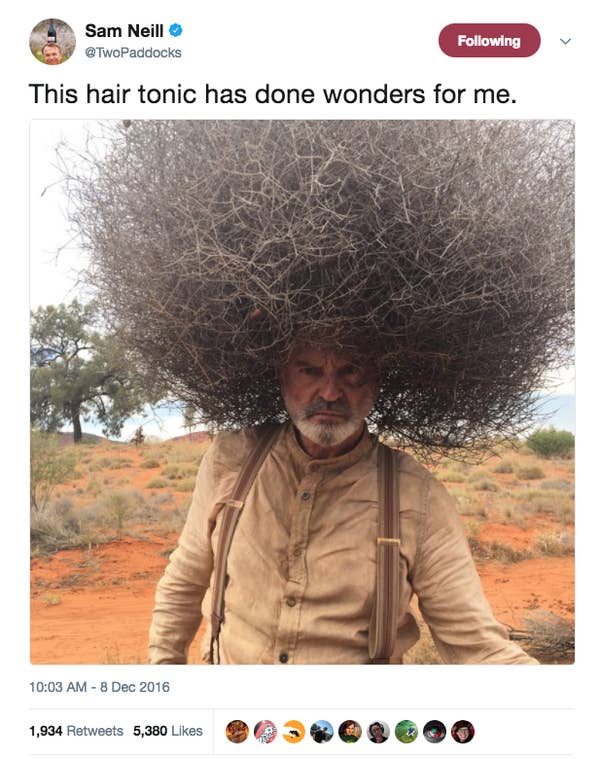 32. He's really helping us all get by.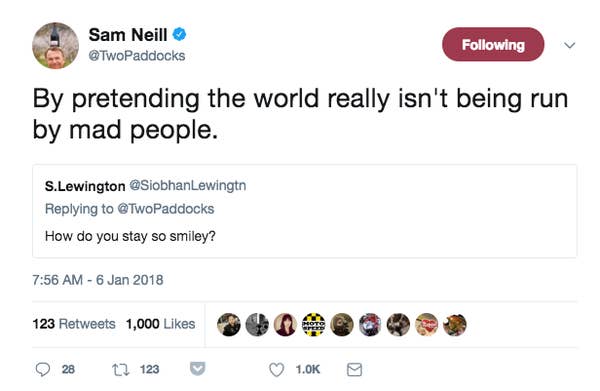 33. Let's hope that he can handle the responsibility. 
Make sure to follow him if you haven't already.